How 3D sound changes automotive audio
The sound engineer Martin Rieger owner of VRTonung has produced the sound for numerous VR and AR projects. He is also in great demand as a speaker on the subject of immersive sound. In the car, 3D audio opens up a range of possibilities for him. Here is the German interview with Meinungsbarometer.info (opinion barometer)
Update 22/10:
Mercedes-Benz just announced a collaboration with Apple Music. Powered by Dolby Atmos, spatial audio will be the next standard in cars. Read more below
Update 23/01:
Amazon Music offers immersive audio experiences powered by MPEG-H Audio standard. Known as 360 Reality Audio, built into an Audio E-Tron.
Advantages of in-car 3D audio over stereo sound?
3D audio can reproduce much more realistically than stereo how we humans perceive sound in our natural environment. This is why it is called immersive audio, because you can literally immerse yourself in the sound. Even in a vehicle.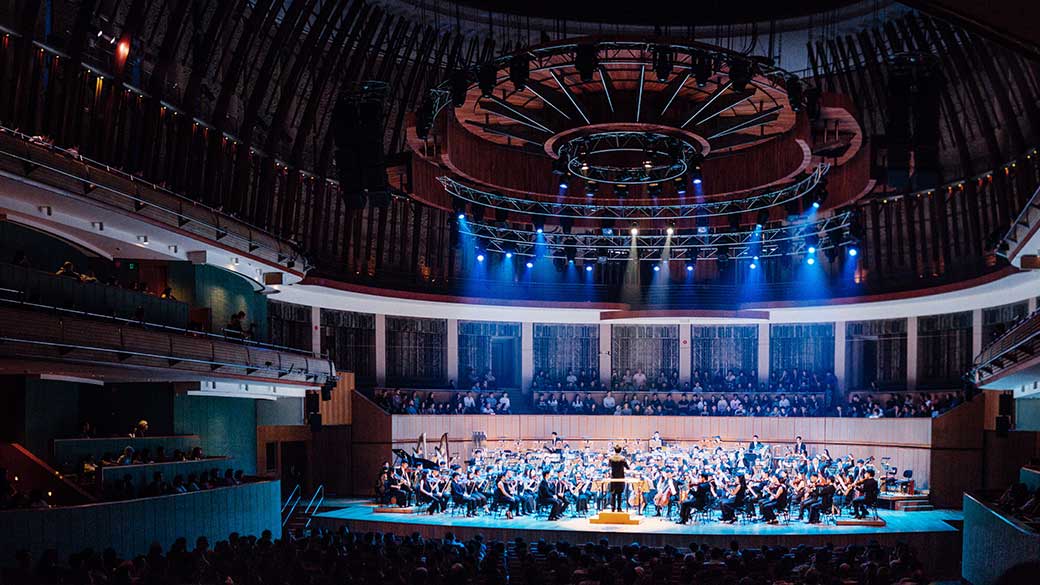 Endless possibilities for creative sound design
For example, the car can be acoustically transformed into a concert hall and gives you the feeling of sitting in front of a real stage. You hear the orchestra in front and the audience in the back and are enveloped in the three-dimensional sound – just like in reality.
Personalized listening experience for all passengers
The car can also be divided into so-called listening zones, which is less descriptive of 3D audio in the conventional sense but just as exciting. Ideally, different audio content can be played in each seat without the other passengers being able to listen in, even though the same speaker system is used. However, this technology is mainly driven by loudspeakers that are installed in headrests and, despite being positioned directly at the back of the head, can produce a three-dimensional sound impression.
What possibilities do loudspeakerless systems offer for 3D audio?
Continental and Sennheiser presented a new car sound system at the CES 2023. This system makes the surfaces inside the car vibrate, eliminating the need for visible speakers.
Strictly speaking, listening with just two loudspeakers does not correspond to our listening habits. We can clearly locate the sound as a point or phantom source from the direction of the playback devices.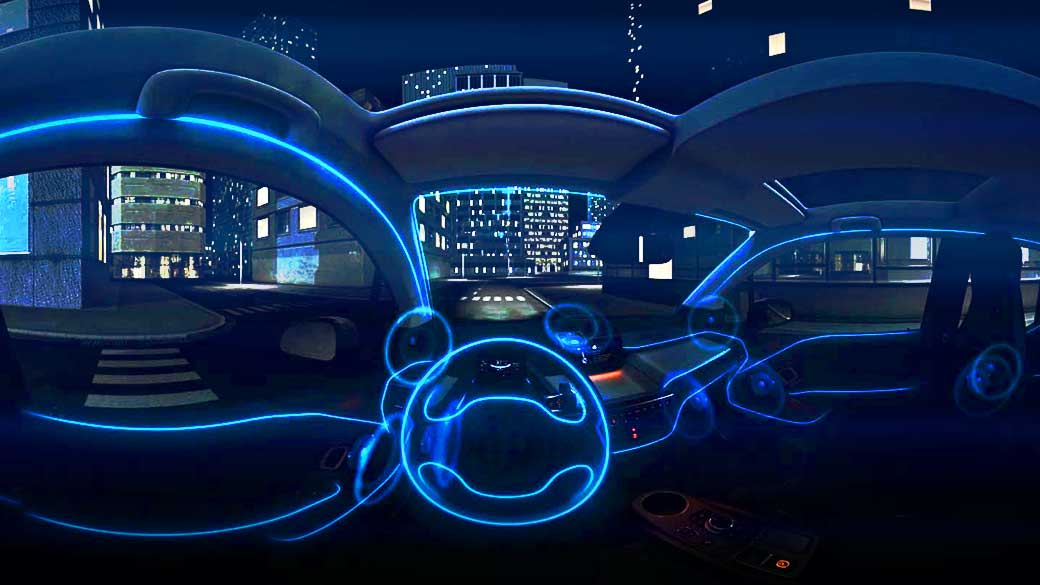 A new form of sound perception
Although if you imagine, for example, an acoustic band in a jazz club, the sound is carried into the room by various sound sources. In the form of musical instruments, with different sizes and radiation characteristics. Loudspeakerless systems could solve the problem of localization and create a listening impression that could be even more natural.
Benefits beyond sound engineering
However, the greatest advantages are less to be found in sound engineering. Weight can be saved and designers have to make fewer compromises with visible speakers when creating the interior.
What potential does this offer for Augmented Reality (AR)?
In the car, 3D audio technology can be used to provide the driver with precise directional information.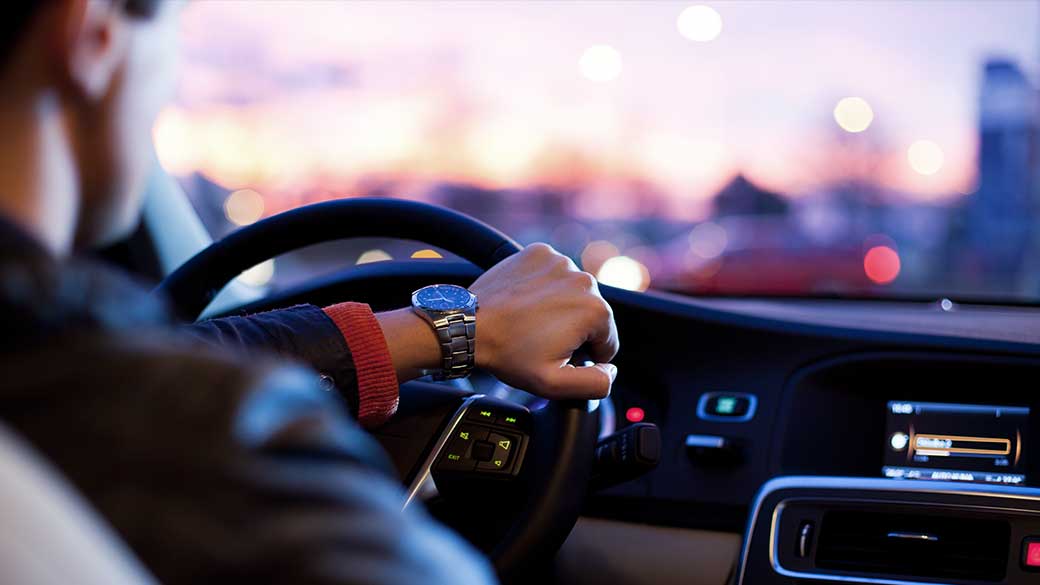 More than just a Beep
Warning signals in the automotive audio sector rarely go beyond a designed beeping in mono. My colleagues at Impulse Audio Lab are working on sound design for electric cars, among other things. If such specially designed driving sounds are used as audio objects that can be moved freely in 3D space, the driver could, for example, be told that he is being overtaken by a car that is in the blind spot on the left or even save a life. And that without the driver having to move his head. Comparable alarm systems are often built into the side mirror and usually communicate only visually.
Exciting for self-driving cars
Thus, 3D audio would add value to the driver's environmental awareness and would be elegantly sounding without beeps and instead use sound design, which could be mixed charmingly into the current music playback.
Is there enough content to help 3D audio make a breakthrough?
Beyond the obvious music and movie productions, there is already a lot of immersive audio content being created, such as virtual reality and augmented reality, soundbars, smart speakers, etc.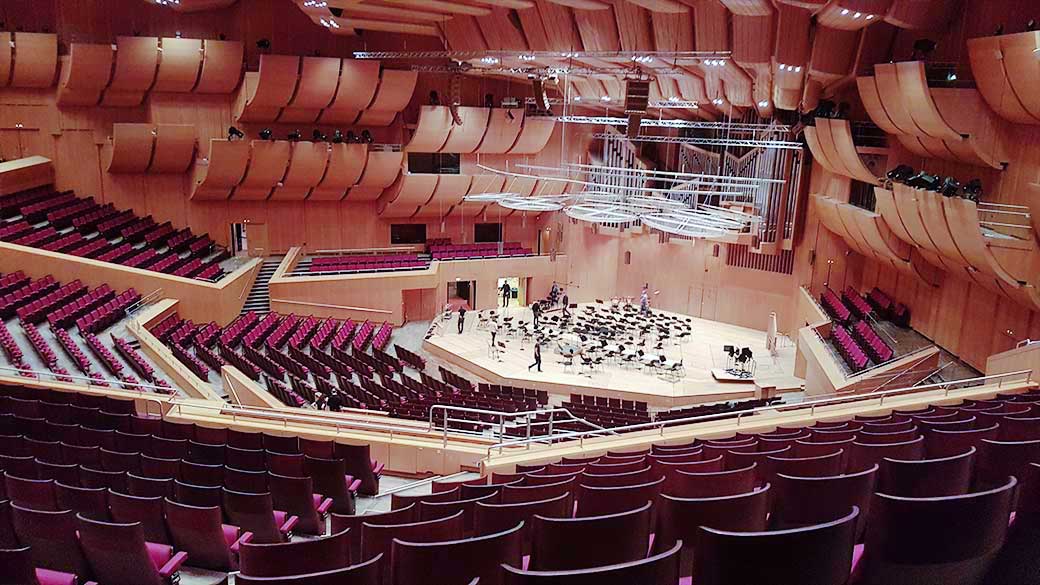 Audio is faster than Cars
The only thing missing is a standard that allows a master file to be played correctly on all devices, regardless of the number of speakers or whether headphones are used for binaural playback. Furthermore, a lot is happening in the world of streaming providers. Dolby Atmos Music, for example, works with Amazon Music and Sony has had more than 1000 titles remixed into 3D audio with its "360 Reality Audio" format. They are distributing them on Deezer and Tidal, among others.
Plan B already exists: Surround Upmixer
By the time cars are actually on the market with a 3D audio system, there will already be countless hours of material. However, even if not, so-called upmixers from mere stereo signals already deliver impressive 3D audio experiences. Even if not with quite as much goosebumps as specially produced content, which has been a big topic in the sound engineer scene for years.
Dolby Atmos in Cars for 3d audio
Apple Music and Mercedes-Benz have announced that their highly acclaimed Spatial Audio with support for Dolby Atmos is now available as a native experience in vehicles. This marks the first time this technology has been offered on such an extensive scale by any brand or manufacturer!
I had the pleasure to test Dolby's demo vehicle at the IAA Munich and IFA Berlin. Although I like to point out the negative effects of Dolby Atmos, I have to admit that the demos I heard were fun.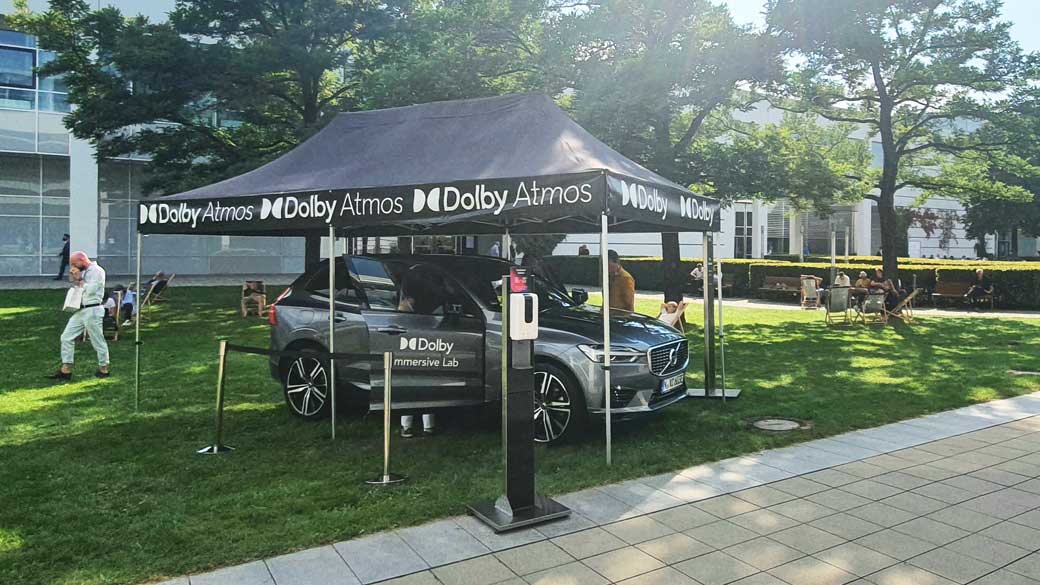 When marketing creates 4d sound?!
4D sound is the new 3d audio!? Well, not really but it always makes me giggle when the PR department of big companies apparently doesn't talk with the tech department to create new marketing terms. According to Mercedes-Benz AG, the multidimensional soundscape powered by the Burmester Audiosysteme GmbH® high-end 4D sound system includes:
31 speakers, including six 3D speakers that emit their sound from above, 4 near-ear speakers in the front seats, an 18.5-liter subwoofer
8 sound transducers (two per seat)
2 amplifiers
1750 watts of power
What what? So the four bullet points are the 4d of sound? No, but what gets you the extra dimension is a so-called "Exciter" that converts sound into a vibration that you can feel. In VR I work a lot with haptics and it really can help to boost immersion.
Sony 360 Reality Audio for automotive
And here is the response: Amazon Music offers immersive audio experiences powered by MPEG-H Audio standard, available on mobile and living room devices as well as in-car entertainment systems to play music. At CES 2020 visitors will be able for the first time to experience Amazon Music's 360 Reality Audio streamed into an automotive environment. All this with a production 3D car audio system installed in an Audi e-tron car.
The advanced audio car sound systems benefit from discrete spatial audio for all vehicle types. Including rear seat entertainment with headphones featuring headtracking capabilities enabled by MPEG-H Audio technology. This enables personalization and accessibility features.
Apart from entertainment, Fraunhofer IIS has developed advanced warning sounds rendered spatially. Just like I forecasted with this article a while ago. Cars are an incredible infrastructure for automotive audio with the right audio system. It gets easier than ever to play immersive audio content with high sound quality. But there is so much more to discover than Apple Music and sounds not quite right. Let's find out the real potential.
VRTonung is an official distributor for the VW group and BMW Group. So get in touch now and find out how to create the car sound of the future with innovative content!
back to the blog