8D Audio – The Future of Music
…or not! I haven't heard and seen anything that has so much to do with 3D audio in a long time and yet is so far away from it. That's why I wanted to introduce 8D Audio, 8D Music Technology, or whatever it's called on the Internet, and show you how to enjoy this questionable listening experience with simple means.
8D Music
What it's about
But one thing at a time. To put it briefly into words, what the whole thing is: Someone came up with the idea of taking commercial music and using a spatializer effect to let it "circle around his head" and then upload it to YouTube. I'll show you exactly how to do that in a video later. The joke is, the effect only works through headphones, so from a technical point of view, the 8D audio can be called binaural stereo. In other words, from a professional perspective, it be put in the same category as "Bass Boosted Version", where music is simply added to the effects with questionable results
How it sounds
Listening Examples
What fascinates me so much about it is the reaction of the users, because such videos have millions of clicks, like for example
User Comments
If you look into the comments of e.g. Imagine Dragons video, you will notice the enthusiasm:
"Now I understood the value of two ears….😂"
"Anyone else took off their headphones to check if their volume was high or their headphones weren't working?"
"I was watching this while the rest of my family were asleep, I thought I woke them up"
"Im so used to this, normal music feels weird now"
"No need to buy tickets for concert". (This comment has 3000 thumbs up!)
Trend-Analyse
One of the two examples comes from an Indian artist and now I'll tell you why. If you look at the search queries, the 8D songs seem to have their origin here.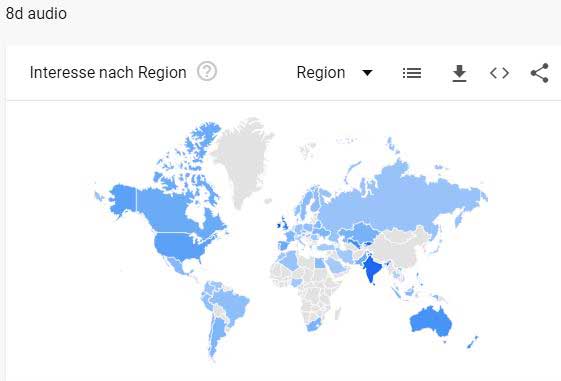 In other words, what started with Bollywood has now also reached pop music.
Do It Yourself 8D Audio
Make your own 8D Song. How is shown in my video right here: https://youtu.be/U9bjypPYblE
Fazit
What is one supposed to think of that now? Good question, because 8D Audio actually polarizes quite a bit, especially among sound engineers, so I want to highlight the pros and cons for sound engineers and the actual users.
Pro:
I think it's always good when people are motivated to pay attention to the sound and have fun with it.
It reaches masses of people who would never have reached conventional 3D audio otherwise and that is hundreds of millions.
Many comments are screaming for more, so it may well be that the first need for immersive audio has been awakened here.
Con:
Even though it was called 8D Audio and not 3D Audio, Spatial Sound, Binaural etc., it is very difficult for the listener to distinguish what exactly is what and why something is good or bad, so in the 3D sound market, it is probably causing additional confusion.
From a technical point of view, the whole thing is a nightmare. So much time, knowledge and money are put into high-end mastered music and then someone comes along, writes "8D Music" on it and everyone thinks it's better to throw all the rules, laws and experiences of audio mixing of the last decades overboard.
As always, everyone has to form their own opinion, but I think that 8D audio has a positive effect on the long run and is nonetheless a very interesting topic to keep an eye or ear on. Well, perhaps not really your ears … let's just say: keep it in mind and see if it was just a hype.