A guest article by Daniela Rieger
"Dolby Atmos Music is an immersive music experience that adds more space, clarity, and depth to your music. Instead of just hearing your music – with Dolby, it feels like you're inside the song" (Dolby, 2020).
In terms of marketing, Dolby has always been at the top – whether Dolby Atmos Music also delivers what it promises has already been examined in this blog post: What can Dolby Atmos Music really do in terms of sound?.
Here, however, we will now look at the technical background of the new technology. Or is Dolby Atmos Music not so new after all?
Dolby Atmos
The term "Dolby Atmos" is an umbrella term for Dolby's immersive sound experience that enables the production and playback of music and audiovisual content. "Immersive" – also known as "3D audio" – means that sound can be perceived from all directions. In the case of Dolby, this can be transmitted via various codecs (Dolby Digital Plus, Dolby TrueHD, AC-4).
Dolby Atmos for cinema films
Dolby Atmos was introduced in 2012 as a playback system in cinemas and expanded over the years to the home cinema sector. Since 2017, Dolby Atmos has also been available via streaming services such as Netflix. So keep in mind: it's more of a marketing term than a technical definition of an audio format.
Click here to read more about the usage of Spatial audio for successful marketing.
What does Dolby Atmos Do?
Finally, the launch of Dolby Atmos Music in late 2019 marked the entry into the music streaming market. Despite the advent of music streaming services such as Spotify, Tidal, Deezer or Amazon Music* which have significantly changed the way music is accessed, the way music is produced is still mostly classically channel-based.
Dolby Atmos Music, on the other hand, is an object-based technology for the production and playback of immersive audio content, based on the AC-4 and Dolby Digital Plus (DD+) codecs.
What does "object-based" actually mean?
In recent years, object-based audio has become increasingly important and is now entering the music streaming market through object-based technologies such as Dolby Atmos Music and 360 Reality Audio. Compared to channel-based audio, where the loudspeaker signals are stored and transmitted as the final production format, in object-based audio the audio content is described by audio objects.
What are audio objects?
An audio object can be considered a virtual sound source consisting of an audio signal with associated metadata such as positions or loudness. Audio objects can be placed in the room independently of the loudspeaker positions – a distinction must be made here between dynamic and static objects. This allows height information and overhead speakers.
In contrast to static objects, the positions of dynamic objects change over time. Channels placed at fixed loudspeaker positions can also be used and transmitted in object-based productions.
Playpack possibilities of Dolby Atmos Music
In the music streaming space, Dolby Atmos Music can be played via Tidal HiFi (in combination with Dolby Atmos-enabled devices via headphones and speakers) orwdm_placeholder_number_3HD (via the Amazon Echo Studio* speaker). Dolby is collaborating with several music companies for this purpose. As a result of these collaborations, albums and tracks already published in stereo or 5.1 surround will be re-released in Dolby Atmos format, as well as newly produced for it.
Apple Music
Dolby Atmos Music gained particular prominence in May 2021, when Apple made a big announcement that it would be able to play Dolby Atmos Music content via Apple Music with its new operating system. The whole thing works via iPhones, iPads, Macs as well as 4k TVs* and associated Dolby Atmos Home System.
Dolby Atmos Apple Music Playlist
Here is probably the most detailed linking of all Dobly Atmos Music productions and their playlists. Most curated music lists usually have a maximum of 100 tracks. But here you will find more than 1000, with a strong tendency to increase. So just take a listen for yourself in various genres such as:
Chill Together, Bollywood, African, Alternative, Blues, Pop, Rock, Reggae, Rock,
Dolby Atmos Nightclub, Party, Radio, Speaker Demonstrations,
Explicit Favorites, Explicit Subwoofer Shakers
Perfect for people who simply want streaming demos of various albums that are not yet available on Spotify. By the way, it also works with Sonos speakers. So it's not exclusive for Apple products. Such as Amazon Echo Studio is spatial audio exclusive for Amazon Music HD.
HUGE Dolby Atmos music list von Scobleizer
Dolby Atmos Music Production
For the creation of a Dolby Atmos mix, the Dolby Atmos Renderer is necessary on the one hand, which is included in the Dolby Atmos Production Suite and the Dolby Atmos Mastering Suite. Secondly, the Dolby Atmos Music Panner plug-in or the Dolby Atmos Panners natively integrated in Pro Tools and Nuendo are required.
The Dolby Atmos Music Panner plug-in is used for the three-dimensional positioning of audio objects of a Dolby Atmos Music mix in a supported DAW. The panner inserted on object tracks provides the renderer with positioning and other metadata, for example.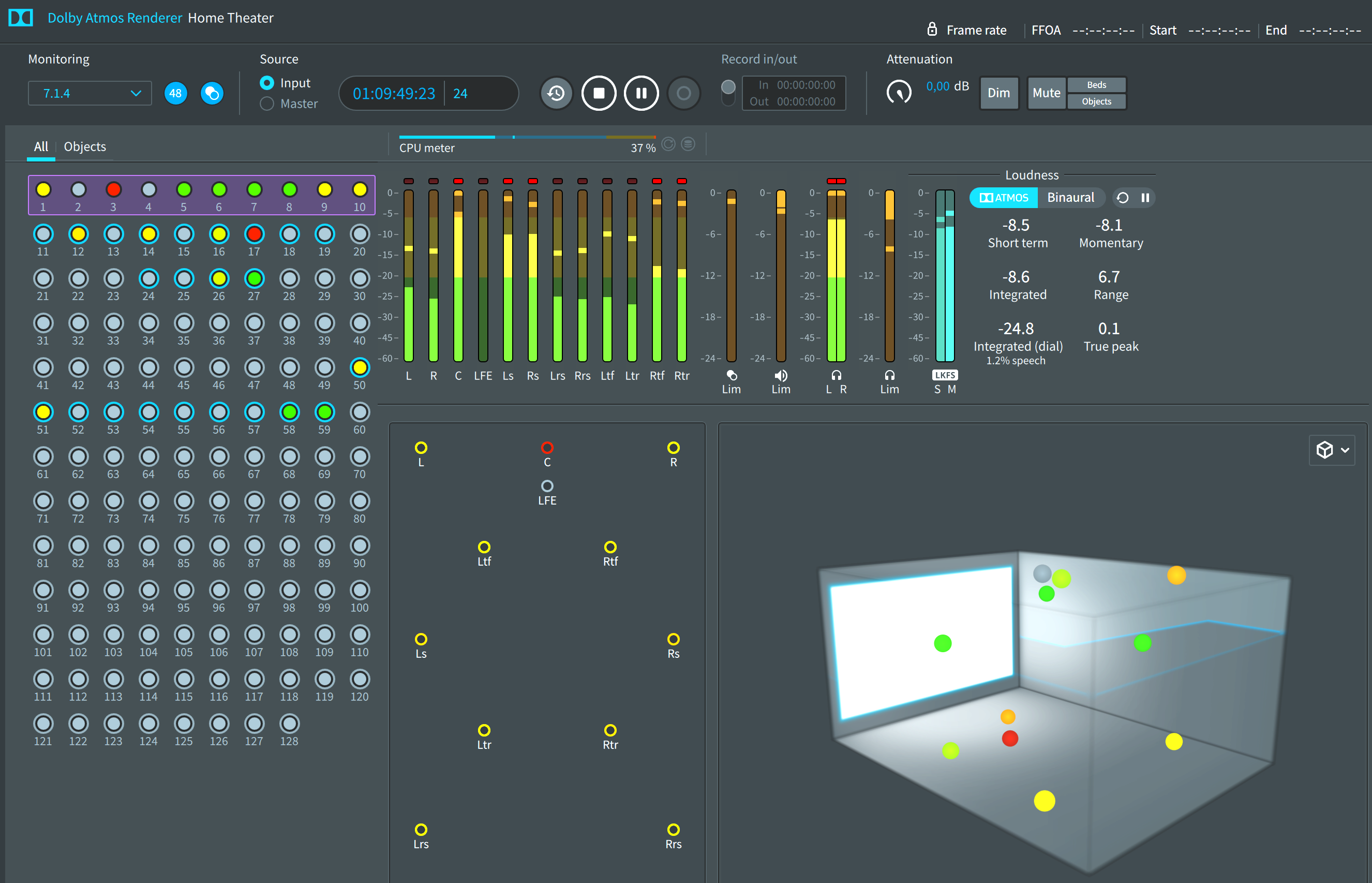 Dolby Atmos Renderer
A Dolby Atmos renderer is part of the Dolby Atmos Production/Mastering Suite/ Dolby Audio Bridge. It is software that is necessary for rendering audio and Dolby Atmos metadata from a DAW and allows you to listen to a Dolby Atmos mix. The Dolby Atmos Renderer supports binaural rendering, which is designed to be used to encode content as Dolby AC-4 Immersive Stereo (AC-4 IMS).
Binaural settings
The binaural settings are also recorded in the renderer and saved in the Dolby Atmos Master File Set (DAMF set). Especially for the binaural mix, the renderer offers different binaural modes: Off, Near, Mid, Far.
These different settings are used to apply different types and degrees of spatiality to the corresponding objects or bed channels. Near, Mid, Far describes the distance between the sound source and the listener's head position, which is stored using metadata. The binaural mode settings are applied to the headphone signal during the mix when listening, recording or playing back; they play no role in speaker playback.
Bed and objects
Dolby Atmos content consists of bed and objects, as well as associated metadata. A bed is a channel-based premix or stems with multi-channel panning already included. The bed does not require dedicated panning via Dolby Atmos metadata – you can think of a bed as a traditional channel-based configuration (such as 2.0, 5.1 and 7.1). These are fixed positions in the room used for traditional speaker layouts (including speaker arrays).
An object is a mono or stereo audio content that has dedicated Dolby Atmos panning and can be placed anywhere in the three-dimensional sound field. An audio object can use a different number of speakers for playback, depending on how it is defined by position and size metadata. Objects can be static or dynamic (moving).
Export and encoding
According to Dolby, the Dolby Atmos Music delivery for distribution via streaming services must be a BWF/ADM file exported from the renderer. For this purpose, a Dolby Atmos Master File Set is first created after the production is completed. For this purpose, a Dolby Atmos master is recorded in the renderer, whereby metadata is saved in the Dolby Atmos Master File Set. An .atmos master can finally be exported in the Dolby Atmos Renderer as a BWF/ADM .wav master.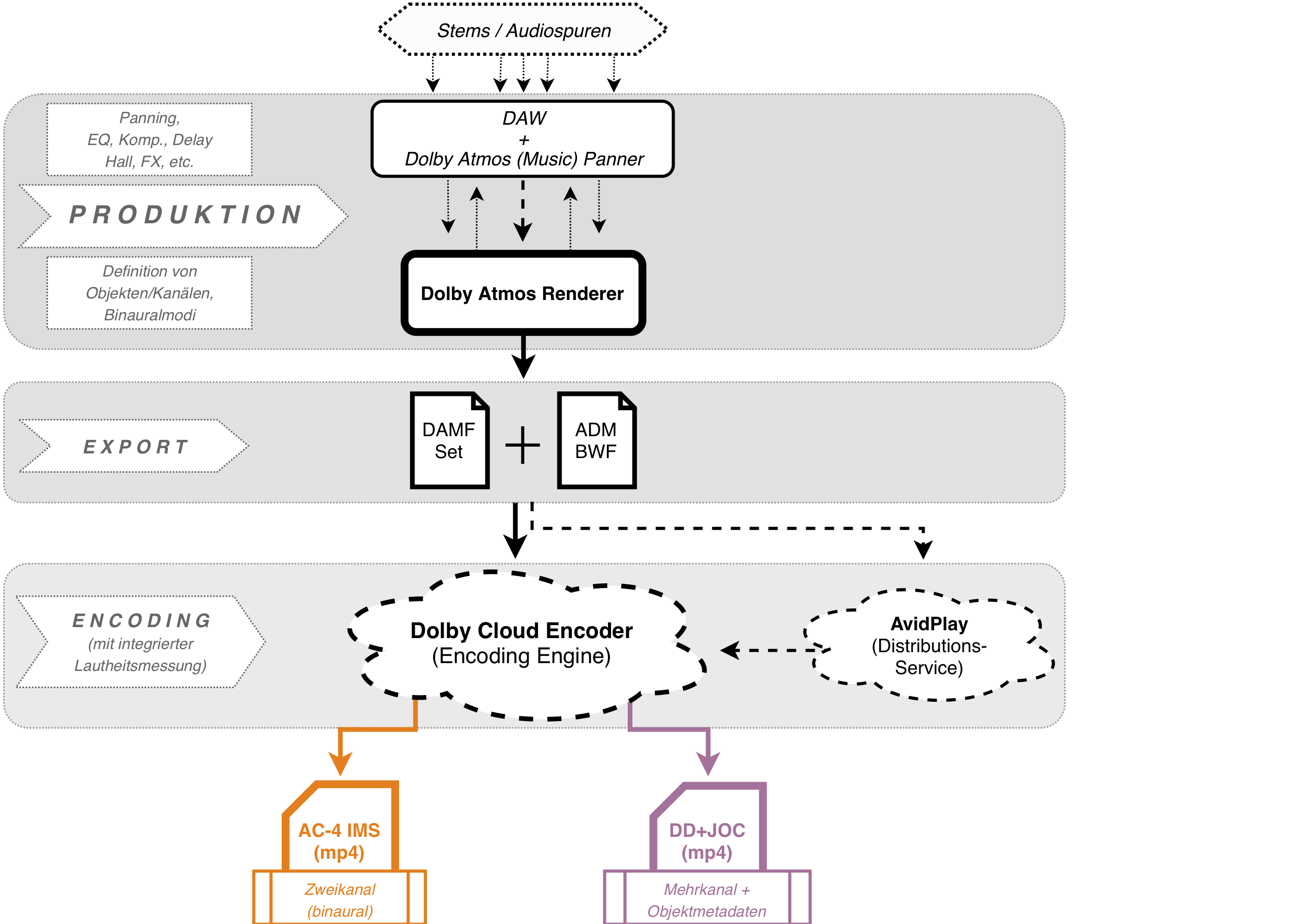 Codecs
Dolby Atmos Music is based on the new "AC-4 Immersive Stereo" (AC-4 IMS) codec: this is used for headphone playback via music streaming services such as Tidal, Deezer, or Apple Music. On the other hand, it is based on "Dolby Digital Plus Joint Object Coding" (DD+JOC): this is used for speaker playback via Tidal Dolby Atmos music player or Amazon Music HD*.
According to Dolby, AC-4 IMS was specifically optimized for the distribution of Dolby Atmos Music for mobile devices. The AC-4 IMS encoded file is (at least according to information in May 2021) a two-channel file, whereby the binauralisation already takes place during the encoding process. In the following distribution process, two files are ultimately transmitted: AC-4 IMS (binaural with two channels) and DD+JOC (multichannel with object metadata).
Conclusion
Dolby Atmos Music is the latest addition to the "Dolby Atmos" cosmos. Strictly speaking, it is a mixture of channel-based and object-based production methods to produce immersive music content for headphones and speakers. The playback options are wide-ranging, from Tidal to Amazon Music HD* and Apple Music, and include a wide variety of streaming providers.
There could be room for improvement within the Dolby Atmos Encoder – currently, two different files are used: AC4-IMS for headphone playback and DD+ JOC for speaker playback.
Switching to one codec for all formats – as is currently the case with the object-based MPEG-H audio codec, for example – would simplify the process and make it more transparent. Nevertheless, Dolby Atmos Music is an interesting technology that – together with Sony's simultaneously released 360 Reality Audio – has opened up the music market in the direction of 3D audio.
Interested in producing Dolby Atmos Music? Further questions, ideas or suggestions? Click here to go to the contact page!
Get in contact
*advertising