Most people are probably familiar with virtual reality by now – this "new" medium with funny glasses. But there are many ways to immerse yourself in new worlds without head-mounted displays. Currently, these realities are bundled under the term XR (extended reality).
This includes VR and AR. So what about AR aka augmented reality? The, currently still, "little sibling" of VR is just about to become big. Here, too, the potential behind the medium is slowly being recognized.
Of course, this article will focus on the auditory aspect. In addition to an introduction to the topic, I would like to provide an overview of the relevant hardware. The term AR is appearing more and more often among consumers. Augmented Reality Audio is thus becoming marketable.
Update 21/07:
Head tracker added: MMR – METAMOTIONR, MMRL – METAMOTIONRL, NVSonic Headtracker NYU
Headphones added: Yamaha L700A
Update 22/02:
headphone added: Sony LinkBuds Truly Wireless Earbud
Update 22/06:
headphone added: JVC Exofield XP-EXT1 support Dolby Atmos, DTS:X, and personal measurement
Update 22/12:
headphone added: Galaxy Buds2 Pro finally supports multichannel audio. Still called 360 audio surround sound experience though.
Update 23/01:
headphone added: Google Pixel Buds Pro for the Pixel 6 and Pixel 7 smartphones or in the list
What is AR?
What is Augmented Reality and how is it different from Virtual Reality? While the goal of VR is to completely immerse the user in another reality, the goal of AR is to expand our reality.
It comes to a fusion of virtual and "natural" reality, so to speak. So far, augmented reality has been used largely on a visual level. Applications in the form of apps for smartphones that, in combination with the built-in camera, project virtual objects onto the filmed image could be mentioned here as an example. Or special AR glasses that can display relevant information in the field of vision.
The prime example is probably Pokemon Go. Here, the hype around the pocket monsters was used and they were placed in the real environment. But overlays like those seen on TV could be called AR. The boundaries are blurring, and we shouldn't be confused about what exactly mixed reality is.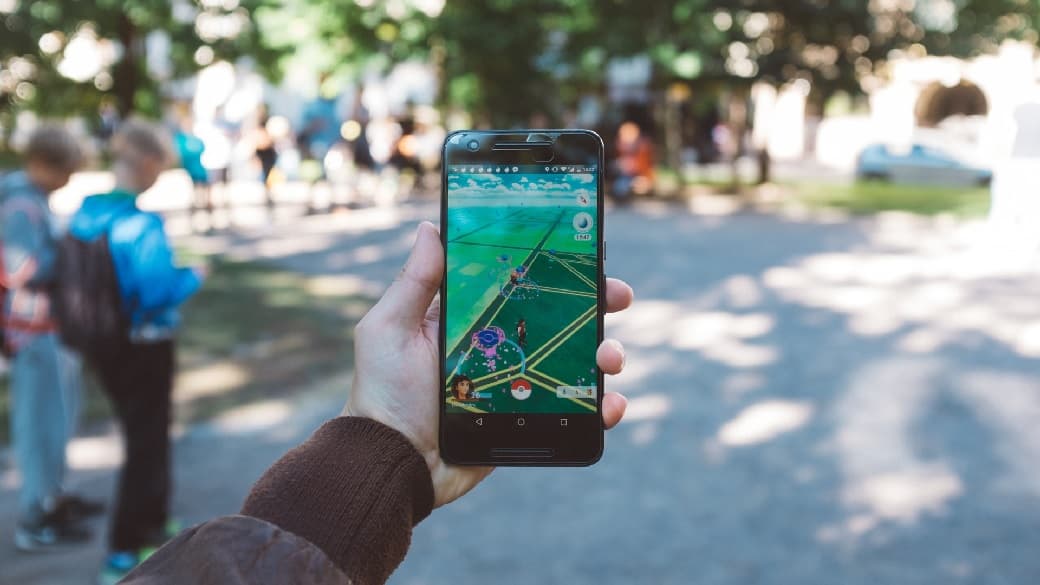 Augmented Reality meets Audio
The concept of augmenting reality can also be applied to audio. So augmented reality audio is about expanding our listening environment, but also changing it. Of course, 3D audio also plays a role here.
Head tracking is a requirement for this kind of audio content to react to our movements. However, this is only one variant of AR audio, because there are other facets: Similar to what happens on the visual level with AR glasses, information relevant to the environment can also be played in via headphones.
Noise Cancelling meets Noise Awareness
So here our listening environment is augmented not as a spatial experience, but as an informative one. Another point in terms of augmented reality audio is the manipulation of the listening environment. Here there is on the one hand the suppression and on the other hand the targeted amplification of the environment. Active Noise Cancelling (ANC) is now built into most headphones. Recently, however, the filtering of ambient speech has also become increasingly important. This is often referred to as noise awareness or transparent hearing.
In the best case, you only hear the part of reality that you want to hear. In other words, you don't hear the traffic, but the people you're talking to. Perhaps accompanied by the right music in the background through the headphones.
It's all a question of definition
If you will, the mere use of headphones is also already a kind of AR Audio application. You expand your reality, even if you only listen to Spotify or a podcast. Check out my article about 3D podcasts here. But here, of course, we want to go one step further.
Applications for augmented sound worlds
Augmented Reality Audio can be applied in many ways. Applications with real added value are gradually appearing in the entertainment sector as well as in business and industrial environments.
In combination with GPS, augmented navigation voices could in the future not only tell you where to go. The navigation system could also be localized from the right direction. This would eliminate the need to look at the smartphone and let the ears lead the way.
Also, location-based audio content can be used for news. Or spoiler alert: advertising. But also inclusion is pushed because blind people could benefit from this technology.
Furthermore, I would like to point out a own project. And if you are interested in further applications you will find in the 3D Audio Content Overview.
Augmented Audio (AR) Hardware
So there are different requirements for audio devices, approaches, and technologies. Many manufacturers like to write "AR" on the packaging because of the hype. But Augmented Reality Audio is not always included. The terminology around spatial sound, 3D audio, and the like is still in the discovery phase. That's why we don't want to be bothered by designations, and we'll browse the market for products.
Explanation: Head-tracking headphones for 3D audio
Head tracking uses a gyroscope to detect and measure head movements. This data is then applied to a reference point, which in most cases here is the smartphone. This allows the played-back audio content to react adequately to movements.
The sensors of the headphones send motion data to the smartphone via Bluetooth. The smartphone calculates the spatial acoustics in real-time and sends the audio signal back to the headphones in the ears.
The apps that already support such devices can be seen here.
Apple AirPods
Apple has two head-tracking capable headphones at the start with the AirPods Pro and the AirPods Max. In combination with various streaming apps that support Apple's Spatial Audio, these headphones make a really good impression in terms of 3D audio.
In addition, both devices have a smart noise-canceling feature. The AirPods Max even has 9 (!) microphones built in. Thus, they neutralize the ambient noise with "anti-noise", i.e. with sound signals in inverted phase. Furthermore, they filter out the human voice even more precisely.
Samsung Galaxy Buds Pro
Samsung's Galaxy Buds Pro can be seen as competition for the AirPods. Although, in our own experience, they still have some catching up to do compared to the Apple products.
These head-tracking-enabled headphones spatialize pretty much every sound source, in the sense of "made perceptible from a certain direction". However, it is not yet an actual 3D audio experience where an envelopment is created.
It is, as with 8D Audio, only a mono or stereo signal that is spatialized. Also, like the AirPods, the Galaxy Buds Pro has an active noise-canceling feature that suppresses unwanted background noise but allows voices to come through.
Samsung Galaxy Buds2 Pro
Finally an update with multichannel: "The 360° audio with Direct Multi-Channel (5.1ch / 7.1ch / Dolby Atmos) almost creates a cinema atmosphere and concert feeling. Instruments, voices, and sounds are impressively placed on the sound stage. If you move your head, the sound still comes from the appropriate direction for a realistic experience. Fast-response head tracking makes it possible."
Only available on Samsung Galaxy smartphones and tablets with Android One UI version 4.1 or higher. Support for 360 Audio and Head Tracking™ may vary by application and content. Head Tracking and Direct Multi-Channel is supported with Android One UI version 4.1. or higher.
Caution: The multi-channel feature is only supported by the Galaxy Buds2 Pro. The Galaxy Buds2 and Galaxy Buds Live also have a feature called "360 audio". But no Direct Multi-Channel audio as it is called, for example for Dolby Atmos content.
Bose AR Frames
The AR glasses from Bose are equipped with speakers on the arms. In addition, the glasses have a built-in microphone, which allows you to make phone calls or use voice assistants like Siri, for example. The glasses detect the position via a GPS sensor and can thus playback information relevant to the environment or navigate.
Likewise, the glasses have a head-tracking function. Bose has unfortunately discontinued the planned AR project, which made it possible to create different AR apps via a software development kit. Thus, the head-tracking function in the Bose frames is of little use now. – The Headphones 700 and QC 35II from Bose, whose head-tracking function was linked to the Bose AR software, also have this problem.
The exciting thing about the Bose Frames is the feeling of having your ears free. One does not feel restricted in any form of acoustic perception as with headphones. Nevertheless, the surroundings can't hear what the Glasses are reproducing. It is also fashionably interesting, but that should not be our topic here 😉
Audeze Mobius
This headset also has a built-in head tracker and works in combination with the NX Virtual Mix Room software from the well-known audio plug-in manufacturer Waves. The software detects the movements of the headset and thus allows the listener to be placed in different room simulations. In addition, the NX software enables binauralized playback of surround sound formats.
JBL Quantum ONE
JBL's flagship gaming headset takes advantage of the company's proprietary "QuantumSPHERE 360" technology. Thanks to their own algorithms and a head-tracking function, users of the headset are promised a high spatial sound resolution.
Sennheiser AMBEO AR One with Magic Leap.
These in-ear headphones don't have head tracking built in, but they are compatible with Magic Leap's AR glasses. Combined with these glasses and the Transparent Hearing feature, you can experience AR on a visual and auditory level simultaneously. Also, these in-ears have microphones integrated for recording binaural audio. The approach is thus similar to the Ambeo smart headset.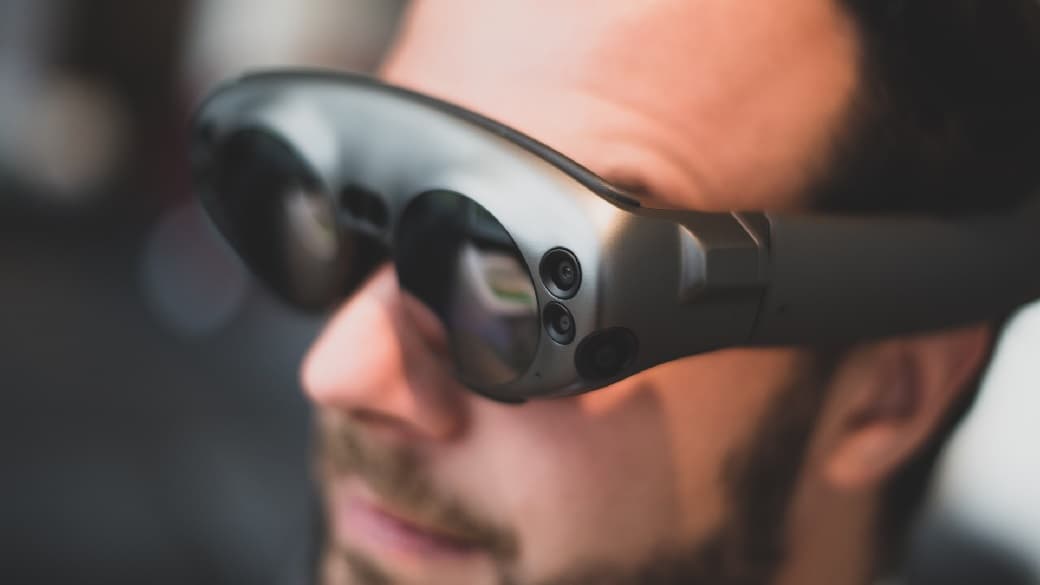 Headtracker without headphones
Besides head trackers built into headphones, there is the possibility to extend 'normal' headphones with external head trackers. In the following some options are listed:
Ultimately, this overview can be found in my the big article on head tracking.
Smart noise canceling
As already mentioned, active or smart noise canceling is also an aspect of augmented reality audio. The following list should give an overview of currently available headphones. A few well-known representatives are mentioned because a complete list would go beyond the scope.
| Headphones | Description |
| --- | --- |
| Apple AirPods Max | As already mentioned, Apple's headphones have nine built-in microphones to ensure active noise canceling. |
| Apple AirPods Pro | The in-ear variant also has different noise-canceling features. |
| Samsung Galaxy Buds Pro | The Galaxy Buds also have different noise-canceling functions, as well as voice amplification. |
| Samsung Galaxy Buds2 Pro | 24 bit Hi-Fi Sound, 360° Audio with head-tracking, intelligent noise cancelling |
| Google Pixel Buds Pro | for the Pixel 6 and Pixel 7 smartphones, Android's answer to Apple |
| Huawei FreeBuds Pro | These Huawei Buds have similar features. |
| Sony MDR-1000X | Sony's headphones not only have noise-canceling. They also have a personal optimizing feature for 3D audio. The sound can be individually calibrated with 360 Reality Audio compatible music streaming services. |
| Nuheara IQbuds2 Max | These in-ear headphones have 6 built-in microphones to provide active noise canceling. |
| Sennheiser AMBEO AR One | As mentioned above, these headphones show their strengths in combination with the AR glasses from Magic Leap. However, the in-ears alone also offer a Transparent Hearing function, as well as the possibility to record binaural audio. |
| Yamaha YH-L700A | It currently upmixes the sound similar to the Samsung Ear Buds Pro. But you can choose your optimized listening environment such as cinema an other places. Also, the ear-shape air leakage is adapting every 20 seconds |
| Sony LinkBuds Truly Wireless Earbud | They are not in-ears, as the hearing channel remains open. This allows you to continue to communicate with your surroundings. Just like you are used to. But you have additional audio information similar to the Bose Glasses. |
| JVC Exofield XP-EXT1 | support Dolby Atmos, DTS:X with content such as 7.1.4 and 5.1. In addition, the headphone measures itself to invidually improve the sound experience |
Following on from the Sennheiser headphones, this 360° microphone overview should also be mentioned here. There you will find binaural headphones. These are mostly in-ear earphones that not only reproduce sound like stereo. Because in the drivers are also microphones installed.
This means that the environment can be recorded and simultaneously reproduced via headphones. Ideally, you wouldn't hear any audio hardware in your ears at all. But in reality, the frequency response of the mics and headphones color the ambient noise. Still, it's an exciting approach that takes the idea of dummy head microphones a step further.
Conclusion
As the article shows, a lot is already happening in the AR space. The technology is there and now it's time to think about exciting applications. In any case, the potential applications of this medium are diverse.
Many people probably first think of XR media in the entertainment sector, but AR in particular also has a lot of potential in the industrial and B2B sectors. Wherever AR is used, certainly, audio will not be neglected.
As always, I'm happy to provide information or help with projects where audio plays an important role, so don't hesitate and contact me right away!
More Audio Realities