After a few years in the VR world, I constantly notice that the auditory part is still chasing after the visual. That's why I decided to make the whole topic of 3D audio, immersive sound or whatever you like to call it, more tangible as a speaker.
It's great and all when I know how nice it is, but at the end of the day, it would be better if everyone else knew. No matter if content creator, VR director, B2B or consumer area. My mission is to sensitize people to three-dimensional listening experiences and to explain the opportunities so that the potential of immersive media can be exploited.
Meanwhile, there are several events in the virtual reality scene, TV/media landscape, and the sound engineer community. I regularly take part and give lectures as a speaker in order to get to know the needs of the different user and user groups on the one hand and to be able to break down the advantages of 360° sound in an understandable way on the other hand.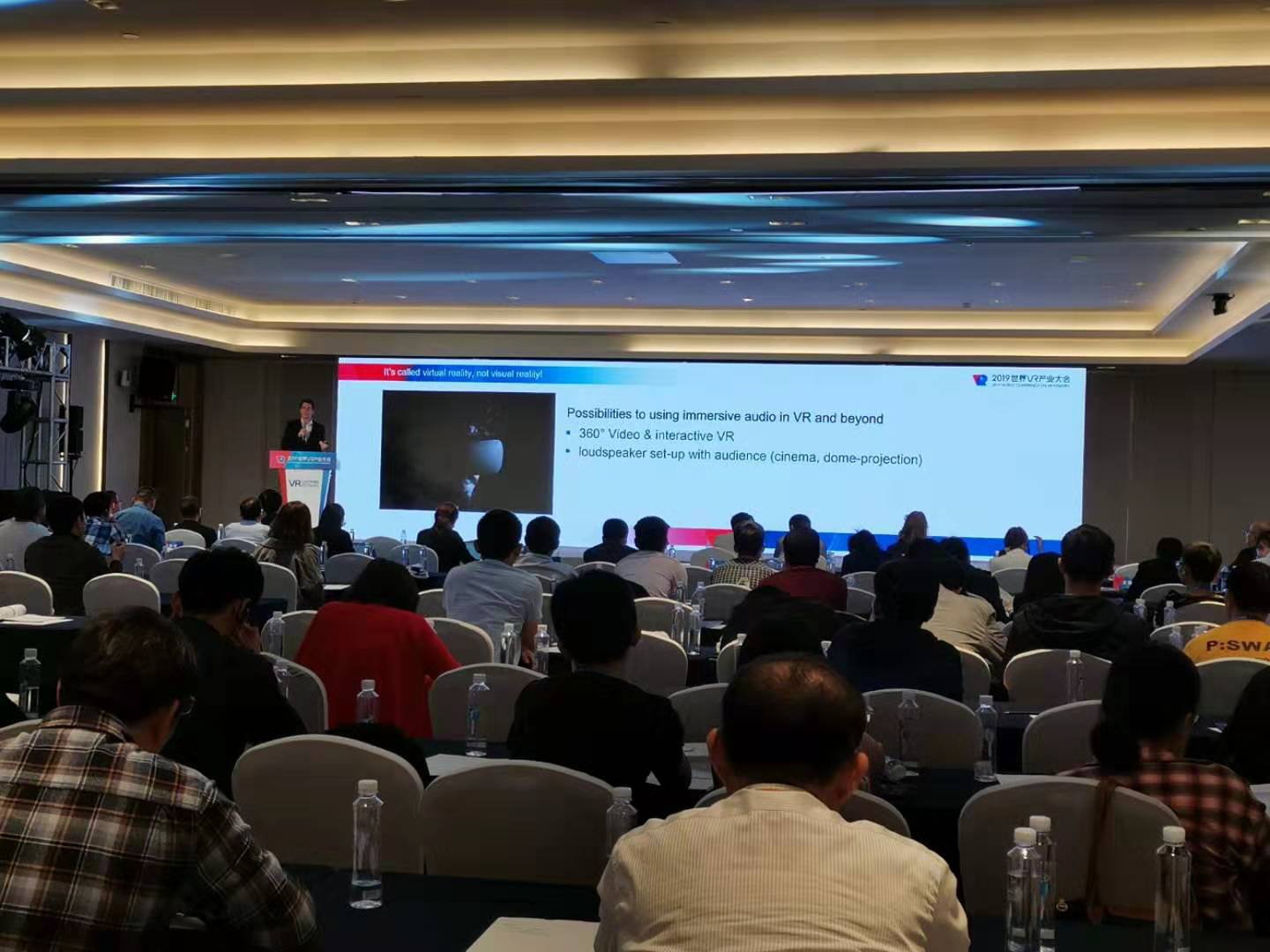 In addition to the workshops I give, presentations are an entertaining way to show a topic to a larger audience, which otherwise cannot be made so easily accessible. Therefore I like to sit in a jury like the AES Dublin or was a mentor at the xR Creator's Lab for instance.
I was speaker at those events
Now also in my event calendar
Here are some events, where I was allowed to illustrate my favorite topic 3D-Audio in VR or similar as a speaker:
"Manufacturing Sound for VR" – World Conference on VR Industry (WCVRI), Nanchang China
"Sound for VR" – World XR Forum, Crans-Montana Schweiz
"Sound for Extreme 360° Productions", International Conference on Spatial Audio (ICSA) Ilmenau
"3D Audio für Alle" – MUCBOOK Bloggermarket 2018, Munich Creative Business Week
Tonmeistertagung 2018 TMT30: "360° Heatmap" Paper Session + "360° Sound Extreme", Schoeps Workshop
"Wie VR-Sound immersives Storytelling lenkt" – Medientage 2018, Immersive Media Area
"360° Sound – wie Surround, nur krasser!" – Medientage 2017, Mediencampus
"Music and Sound Design for Neurofeedback (EEG)"- International Conference on immersive and interactive Audio
"Sound for Extreme 360° Productions" – AES Dublin 2019 + Jury "Sound for Visual Media"
"Sound for challenging 360-degree productions" – AES International Conference on Audio for Virtual and Augmented Reality
"Immersive Audio for Reality or Virtual Reality?" – AES Milan 2018
"360° Sound Heatmap Case study" – Sounds in Space 2018 University of Derby
"How VR-Sound drives Immersive Storytelling" – VRBLN Focus: VR and Audio VR MeetUp Berlin
"Cinematic VR vs. Interactive Audio" Game Audio Meetup München – SAE München
"Introduction to 360° Audio for VR" – VR 360° Video Meetup #7, VR / AR / 360 Meetup Munich
Source
World Conference on VR Industdy, China
ICSA Ilmenau
World XR Forum, Crans-Montana
Bloggermarket
Tonmeistertagung 2018
Medientage 2018
Medientage 2017
AES IIA
AES AVAR
AES Milan
Sounds in Space 2018 University of Derby
VRBLN Focus: VR and Audio
Game Audio Meetup München
VR/360 MeetUp München