Shift Medical 2021
Once again this year I get to be a part of THE event on Medical XR. This year there will not only be a talk, but I will also hold a workshop. A workshop about sound in VR. The whole thing in VR. So it will be exciting – and acoustically challenging.
So it's best to secure a ticket right away. There is already a very top-class line-up of speakers: https://shiftmedical.eu/
Follow-up 2021
This year I gave a workshop with my own screen and bleachers in the separate networking area. People could easily join and ask questions as well as share lively topics. Topics like:
what is important about sound
how do we perceive it
Why is sound relevant for VR and 3D?
why is sound so important in the medical field were especially interesting for the visitors this year. Above all, it was about the medical devices which make far too much noise and often totally annoying beeping. Here it was suggested that some things could be done better to keep the noise level more pleasant or lower.
To the event itself, it ran over the platform tricat. The program supports the sound and you could hear some of the spatial audio, the people could locate themselves, but it is far from how it could actually sound. Unfortunately, you can still tell that everything is too compressed, so you can't get the feeling that you are in the room, but rather an abstract sound source in the room. Mono could be played but no stereo, so unfortunately I could not show 3D examples and how nice it could sound. Also could be shown on the page only a few videos and audio examples with good listening quality. Conclusion: There is still a lot of potential here.
Shift Medical 2020
Shift Medical 2020 is a virtual congress and expo on XR in the medical field. It is the largest medical XR congress and expo in Europe, enabling international exchange in the medical and health field.
Program of the virtual event
Over the three days of the event there will be exciting presentations from many speakers. Topics such as XR in therapy and XR in training will be highlighted. But it will also be about – as in my talk – how to make the best use of the possibilities of XR for the medical field.
In addition to the presentations, there will also be networking breaks and the opportunity to ask questions.
The program in detail can be found on the Shiftmedical website.
VRTonung will be there
On Friday, I'll be giving a talk on "How the missing gap in the medicalworld sounds like" at 1pm. I'm talking about the "missing gap" because sound is rarely talked about in the medical world. Yet there are important applications in music therapy, for example. But it has rarely been considered beyond how immersive audio can add value. Especially in training, acoustic feedback is important to convey information about hearing, sonification is the keyword here.
ECG sound can be used to sonify the heartbeat, for example, but sonification can go far beyond a simple beep. Information and emotions can be directly influenced by sound with binaural beats, immersive audio and music. But what sound has its proper place where, and where there are still gaps in the XR medical world that need to be filled, is what this Talk shows.
review
I'd call myself a VR native. But what was offered here was really one of the most innovative events I have ever been to. Because of Corona, the whole event was held in VR – unlike originally planned. But you were not forced to use VR glasses. Via the TriCAT Spaces platform, you could also simply participate via a Windows computer. That's how I gave my presentation. It looked like this: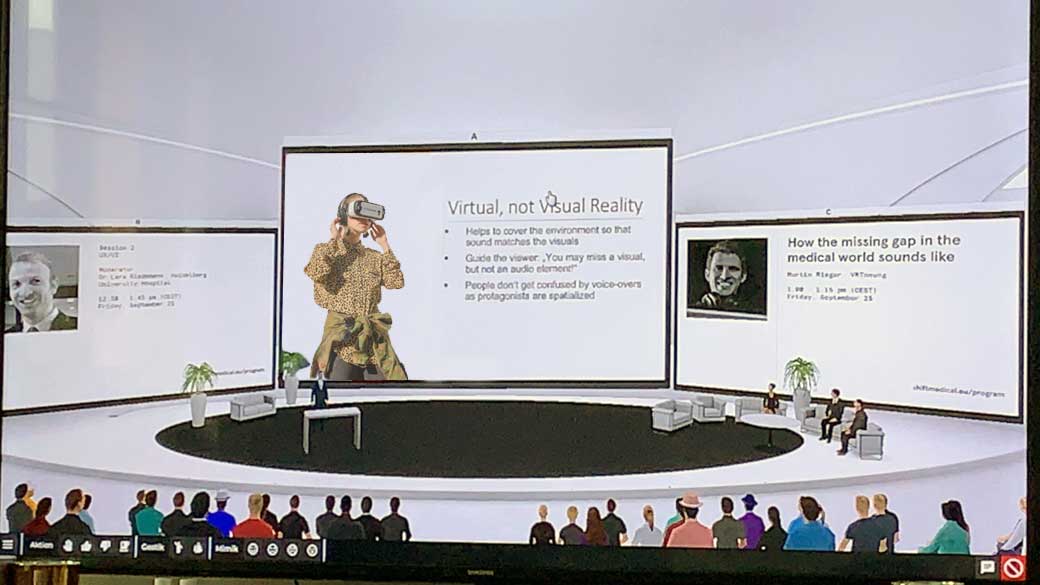 If you want to know what the view on the stage was like, below is the picture. By now you know virtual events, mostly via Zoom or similar. There you are appointed as a speaker or host and can then give your presentation. Here, of course, it was a bit different. Because every participant was present as an avatar, one had to walk onto the stage in the virtual event location. A bit like a video game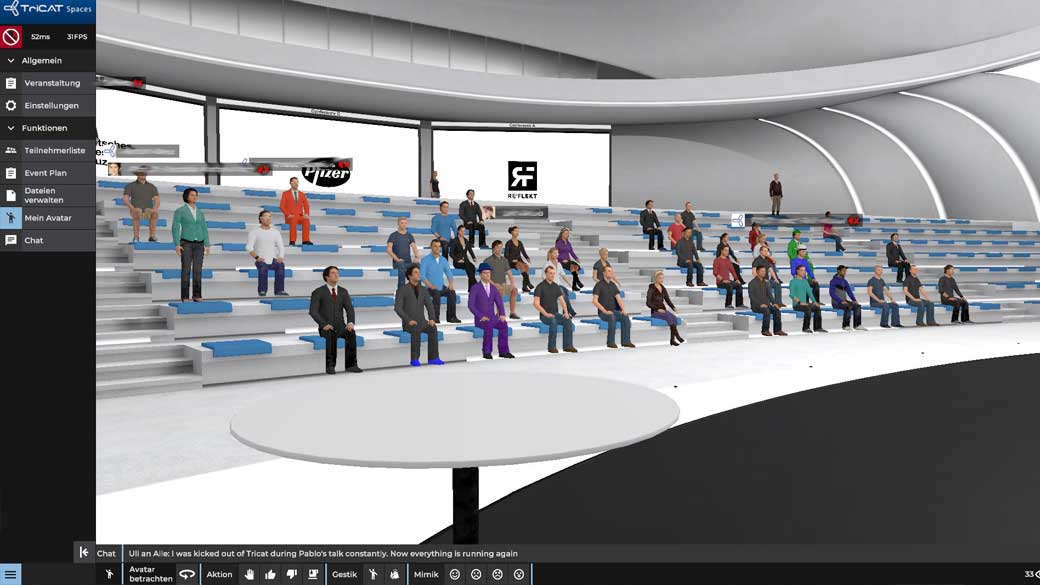 Fun Fact
Here's how it went for me. I sat very inconspicuously in the audience and dutifully waited my turn. When my name was called, I pressed the forward arrow key and my avatar rose from its seat. I casually walked up to the stage while listening to my introduction. But suddenly a hole appeared in front of my avatar and I fell in.
Well, and then I only saw how the stage in front of me suddenly flew upwards away from me. And my avatar fell further and further into the groundless floor. I couldn't do anything against it – except to write quickly to the organizer:
Martin: "Help, I fell into a white lock!?" Organizer: "OK"
And poof I was teleported back by mouse click. That means, one moment I was mentally falling through space and time. And in the next moment I was already standing on the stage. Wow, that's a lot for the brain to process. But off I went, and fortunately I can talk about sound in VR and Medical XR in my sleep.
back to events